Incredible night. After a long silence away from all parties, I am finally out for the weekend. Feels so much like I've turned into a vampire and finally awaken. Well, I will never reject parties, who would say no to fun stuff. What now? Welcomed by Free Flow Drinks … okay. I shall pick Coke!

Chilling out and drinking on the beach, now we have it all at Sand Bar, Hard Rock Hotel Penang. The launching party kicked off at 7pm, and ohhh, I was  … urmm … late? Two of my friends tagged along. With a touch of purple, I decided to have my purple bikini on, which was a gift from a good friend. Finally, I have a reason to put it on.
okayy … sorry 'bout the starving look. I so called nap the entire evening and its my first meal after that. Wait, its a party rawkin' time, don't think I should behave.

Sand Bar will be the place for the guests of Hard Rock Hotel Penang to chill while snacking with a drink in their hands alongside with the live band on the beach! Where else can you get all these combo?!
Opening hours: 11am – 11pm
[Happy Hours: 6pm – 8pm]
Urmmm … yea, that's of course my partner in crime 😀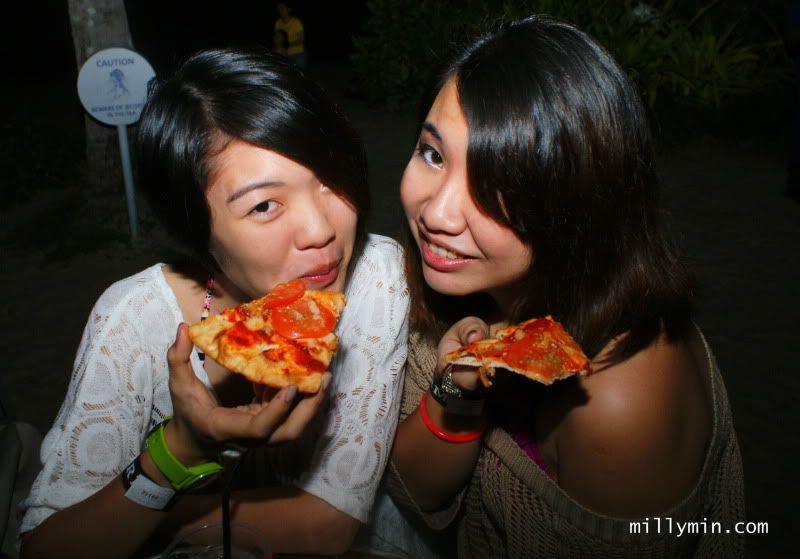 … and of course, let loose, and we enjoyed ourselves very much too having the Bongga Bongga band and the Australian deejay, DJ LkUk spinning on the stage all night long. Shake that booty, yo!

For those of you who decided to give this party a miss, yes, you have missed out A LAWT including these bunch of hawt stuff!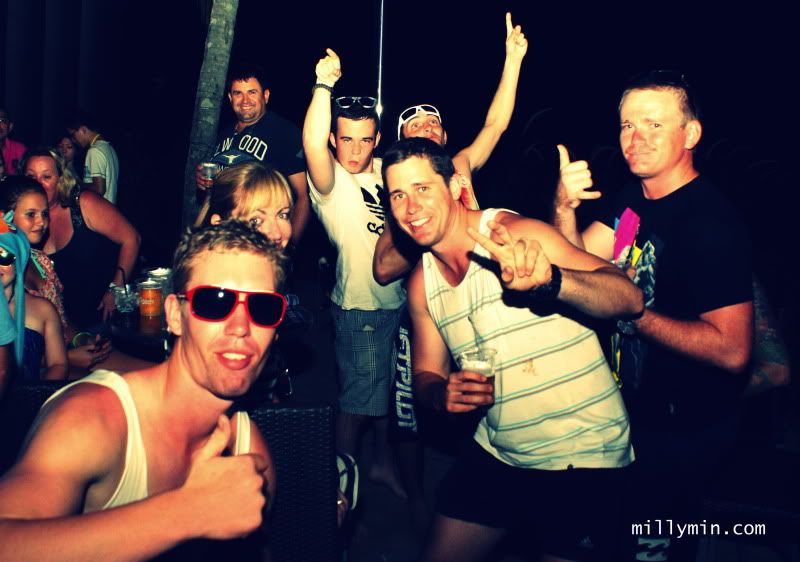 Oooo yeahhh!

Performances by the Danzity.

… and not to forget, I was also very well entertained by the Angry Bird?!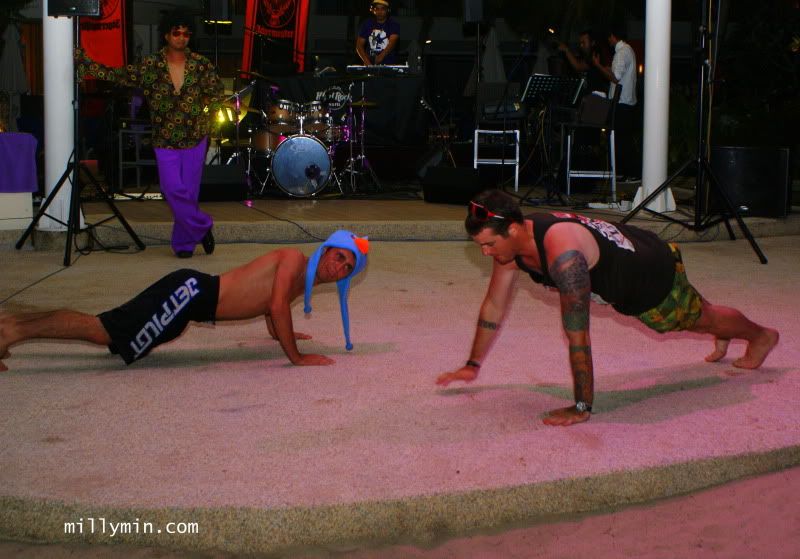 "Sorrehhh for partayyy rawkin'!" Yea, party rock anthem! 
The Sand Bar Launch Party was held in partnership with Jagermeister, Carlsberg and Redbull. All booze were ready and nicely arranged for the guests.
and the official launching of the Sand Bar was done by the General Manager of Hard Rock Hotel Penang, Mr. John Primmer.
 The smaller cup into the bigger cup. Its like magic to me! Dominoeeeeee …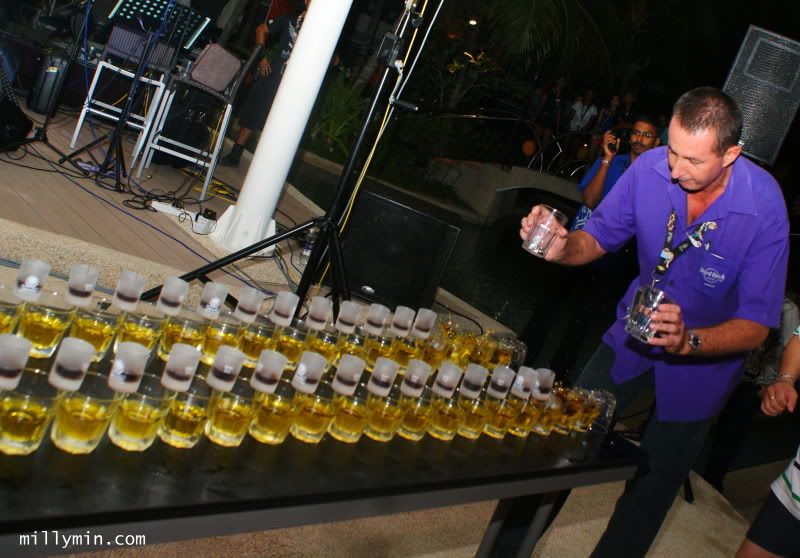 Those potions make the boys happy!
and yeah … Eddie does this to me ALL THE TIME!
Let me show you how barbarians eat …
My photographer, FuKun and my partner in crime, Siew. Oh yea. Did I mention that its supposed to be a Purple Beach Party? … and the one who dressed like a Barney won't leave empty handed. *teehee*
and not to forget, the sexy dancers.
Second round of Eddie making me drink  😛  Okay, I admit. I was thirsty  :S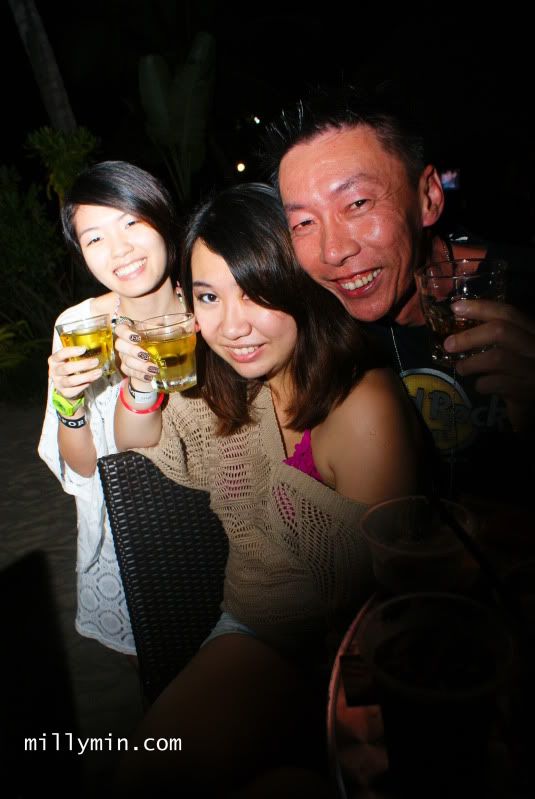 The accidental visit to the Great American Buffet!
I wouldn't have such an awesome weekend if its not her. 
Epic moments! Its such a priceless capture.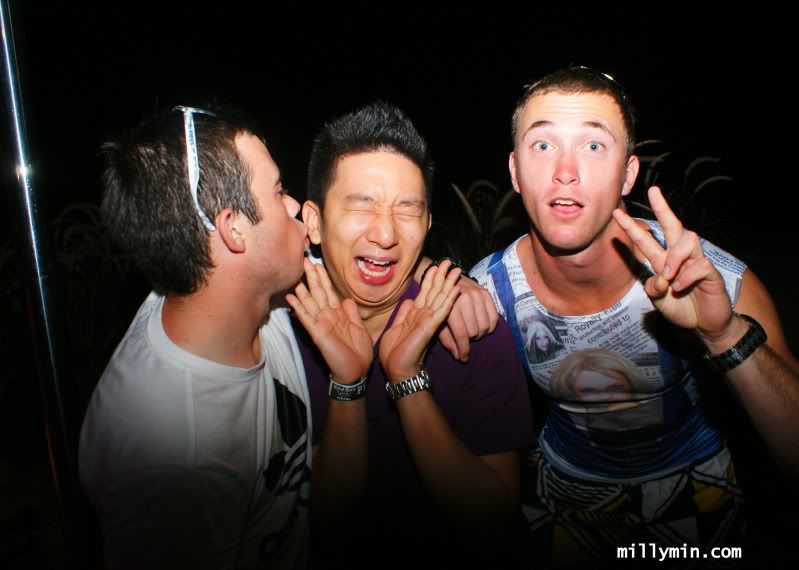 It would be great to have one at home 😛
Okayyy … obviously we want more!
Thank you, Hard Rock for the awesome time! More please?! 😀