. . . and hence there goes my Sunday. Apparently, I received a call early in the morn requesting me to return to work. Oh well, a boring person like wouldn't have much to do in weekends but surprisingly I received an invitation to a food review over at Teluk Bahang, a restaurant which had been established on July 30th 2010.
Guess what? I had a wonderful dinner, thanks to
Tree Monkey Restaurant
, watching the sun set overseeing the Andaman sea, surrounded by jungle trees and if you're lucky in the day, you'll be able to see monkeys swinging from trees to trees. Worry not. If you bug them not, they will mind their monkey business. I hope the picture of the sunset is captivating enough before I proceed to the food served.
#1: Sunset Paradise
– A welcome drink known as
Sunset Paradise (RM10.00)
was served. The colour of the drink itself resembles sunset and hence Sunset Paradise will only be served 6.00pm – 7.00pm only. Its a bit sourish and ain't that sweet. Hence, don't missed that out while watching the sun.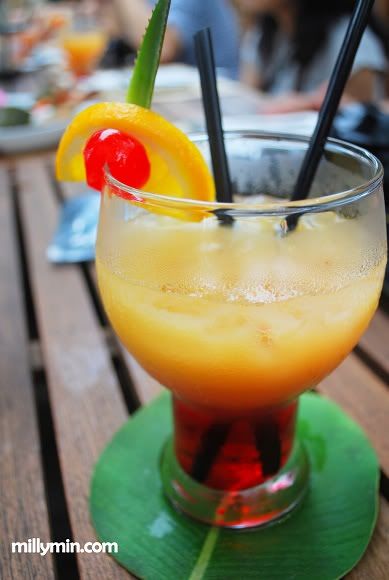 #2 : Thai Tapas
which you may choose any types of appetizers served with sweet chili sauce. There will be
12 options on the menu for you to pick mainly Thai Toast, Money Bag, Herbs Chicken, Spring Roll, Pandan Chicken, Otak-otak, Mussels Salsa, Lemongrass Stick, Prawn Sarong, Prawn Sabai, Thai Fish Cake & Darling Crab.
[8pcs @ RM30, 12 pcs @ RM45, 16 pcs @ RM60 (max 4 pcs on each item)]
Darling crab was not available and hence, only 11 pcs were served.The chefs of this restaurants are from North East Thailand.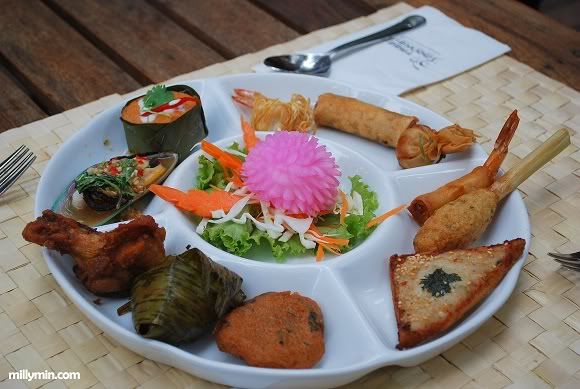 #3: Asian Tapas
served with 12 options as well. The 12 options on the menu would be Mango Salad, Satay, Nam Tok, Crispy Herbs Fish, Chili Paste Prawn, Sweet Bean Curd, Kang Kung Belacan, Son In Law Egg, Masaman Curry, Panaeng Curry, Tomyum Soup & Tomkha Sou

p.
Love the Tomyum Soup big time! I'm not a "hot & spicy" person. If I start taking those, I'll probably need at least 3 glasses of ice water before me. The soup was perfecto! It wasn't thattt spicy and yet it suits my taste buds perfectly.
[8 dishes @ RM60, 12 dishes @ RM90 (max 2 dishes on each item)]
I find the eggs' name is catchy, "Son In Law Egg".
I heart the ambiance big time. Apart from the beautiful sunset, the restaurant is kitted with ironic furniture from Chiangmai and not to mention, Bali as well. Well, with such ambiance, it is able to cater for around 80pax and they do corporate, wedding and any other occasion you can name as long as it is within the headcount. A nature lover like me would love to dine at a quiet and laid-back restaurant as such where you can hardly find such layout in this island.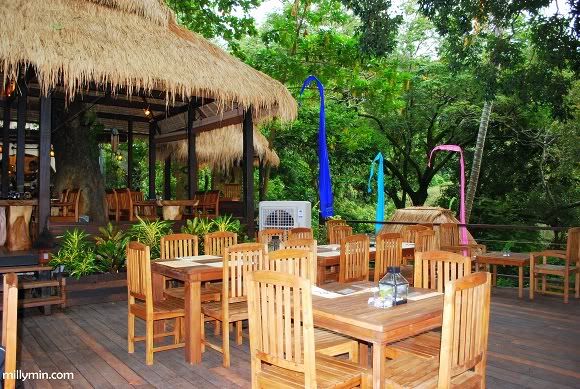 All the food served is Halal and vegetarian is also available.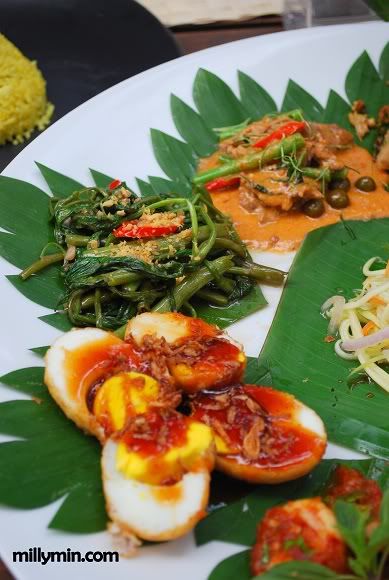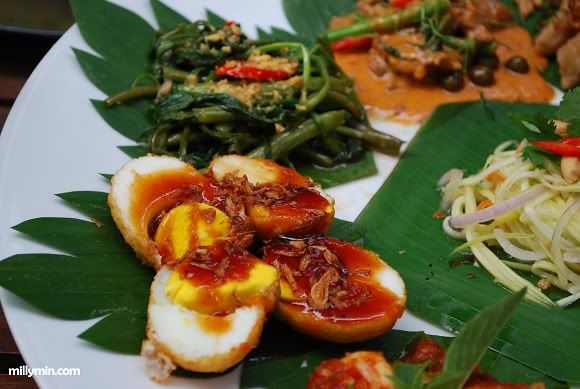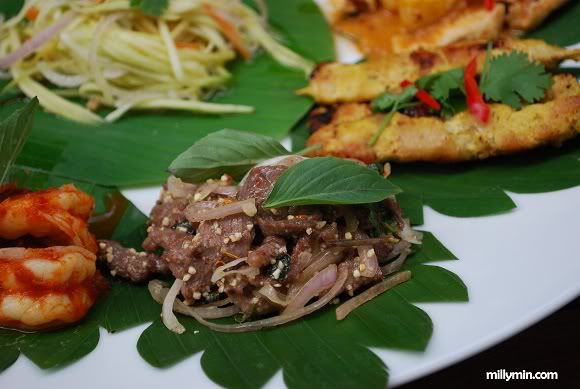 The tumeric rice.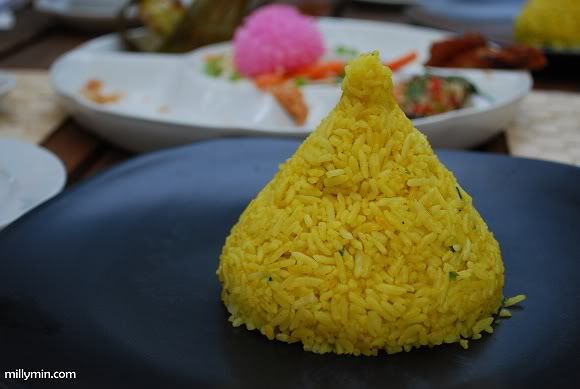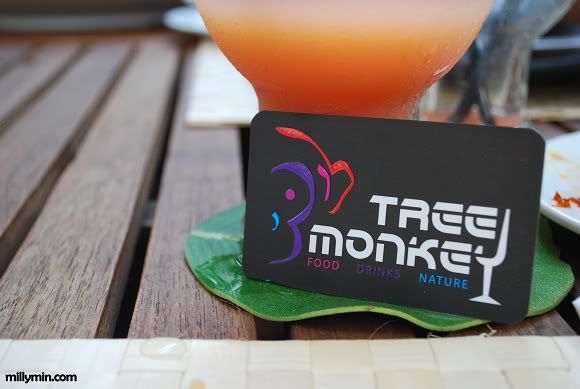 Before the sun sets completely . . .
#4 Thai Coconut Ice Cream
RM8.80 (topped with jackfruit and attap palm seeds/attap chee/buah nipah/Nypa fruitcans)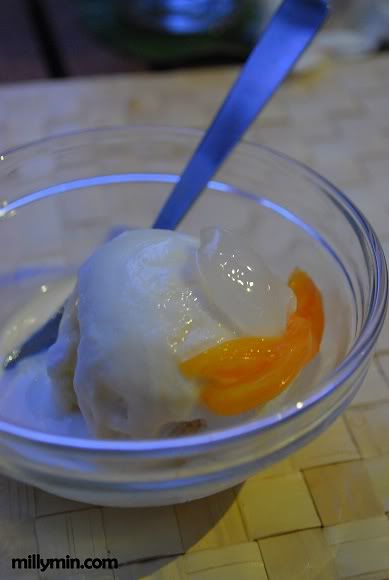 Its santan-ish but it tingles your taste buds.
#5 Spice Tea/Coffee
with Condensed Milk which can be served in both cold or hot – RM8.00.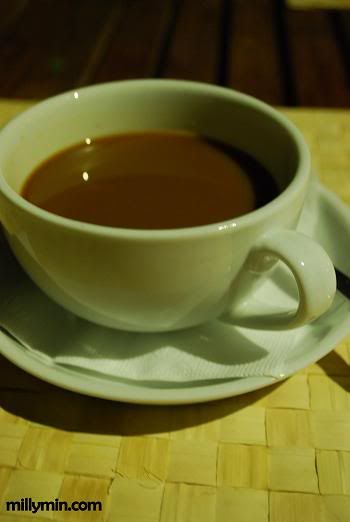 The taste of the spice in coffee. Something beyond imagination is a MUST TRY!
For family dining or maybe a big group.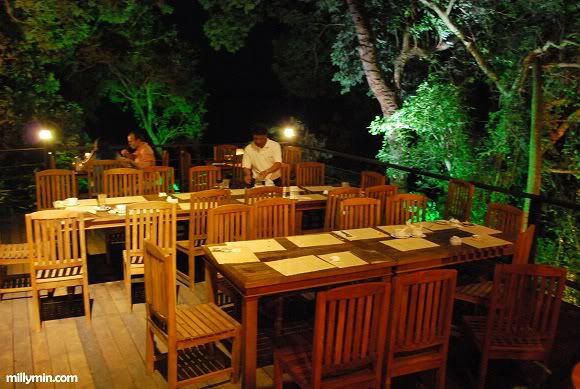 For family or couples

The bar.
… and one amazing fact would be, this place was built without nails!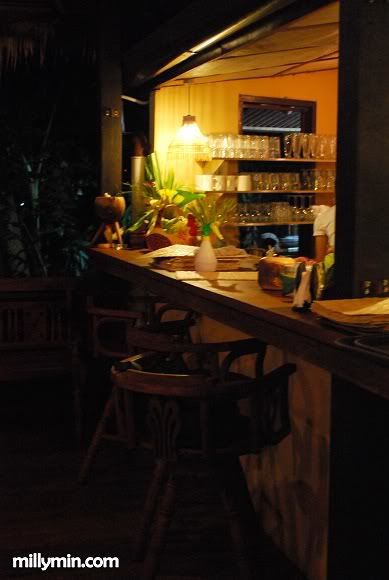 Dining in the jungle, with the nature.
With the rest of the Floggers.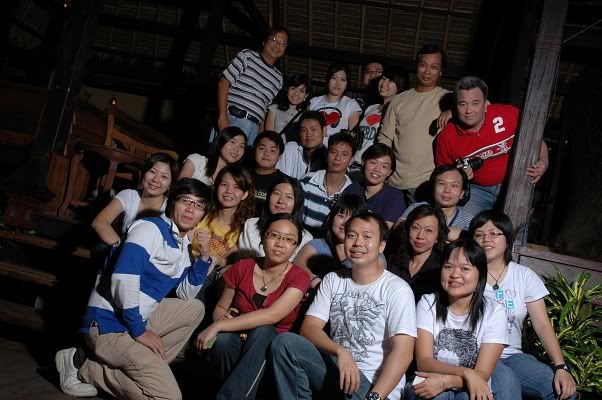 The concept of his restaurant will enable you to have a relaxed weekend like what I just had.


Its open throughout the week regardless breakfast, lunch or dinner from 9am-12pm.
For inquiries:
Tree Monkey @ Tropical Spice Garden
Lone Craig Villa, Lot 595,
Mukim 2, Jalan Teluk Bahang,
11100 Penang.
Telefax: 604-881 3494
A big THANK YOU to Tree Monkey Restaurant for the wonderful food.