Hmmm … Never like ranting, but after a long tiring day, the only thing that crossed my mind was just chillin', feed myself with some good food at a cosy place and viola, be happy and merry. Thus, let the great night starts here.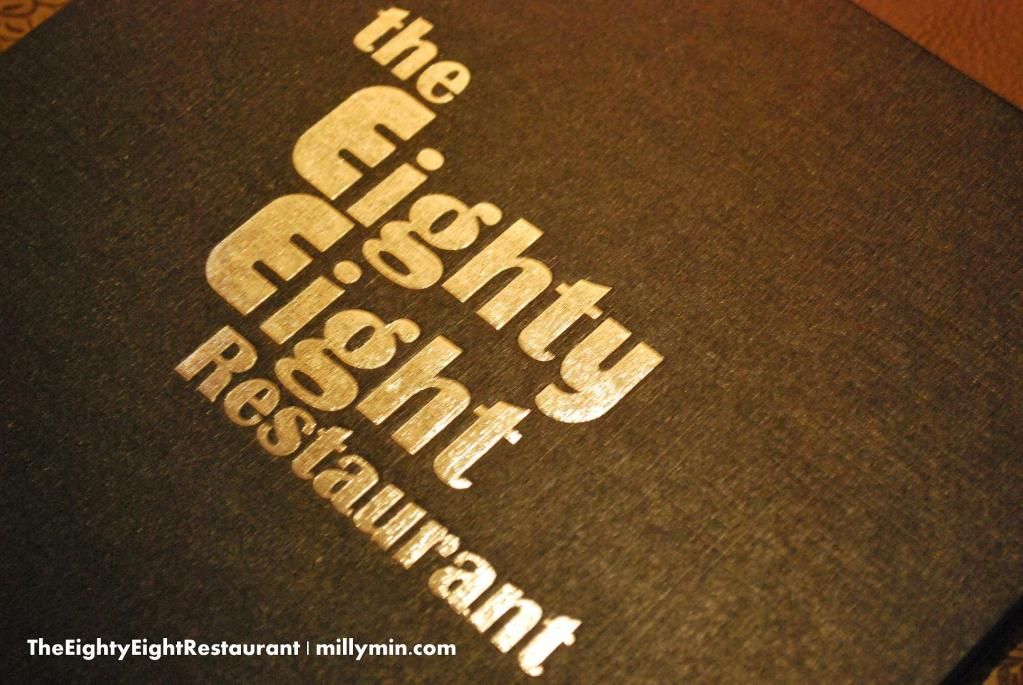 Kicking off the awesome dinner with Muffin Bread with Burned Butter. It tasted very homey, very natural and I wished I have this everyday in the morning.

Sometimes, whenever you see Caesar Salad on a menu, you might want to skip that. This would be the Eighty Eight Restaurant version's of Caesar Salad (RM20) which you would not want to miss! It is served with a slice of romaine lettuce, some cherry tomatoes, homemade caesar dressing, some Parmigiano-Reggiano, some sliced muffin bread croutons and shredded white eggs and yolks. I would say, I can have this for any meal, be it breakfast, lunch or dinner!
Jamon Iberico (RM30) would be a cold starter, which is served with slices of ham which I was told that it is a Spanish Cured, layman term; Black Iberian Pig, extra virgin olive oil which is imported from Spain, some eruca sativa and it has to be wrapped on a Gnocco Fritto, which also mean baby pillows which are fried dough.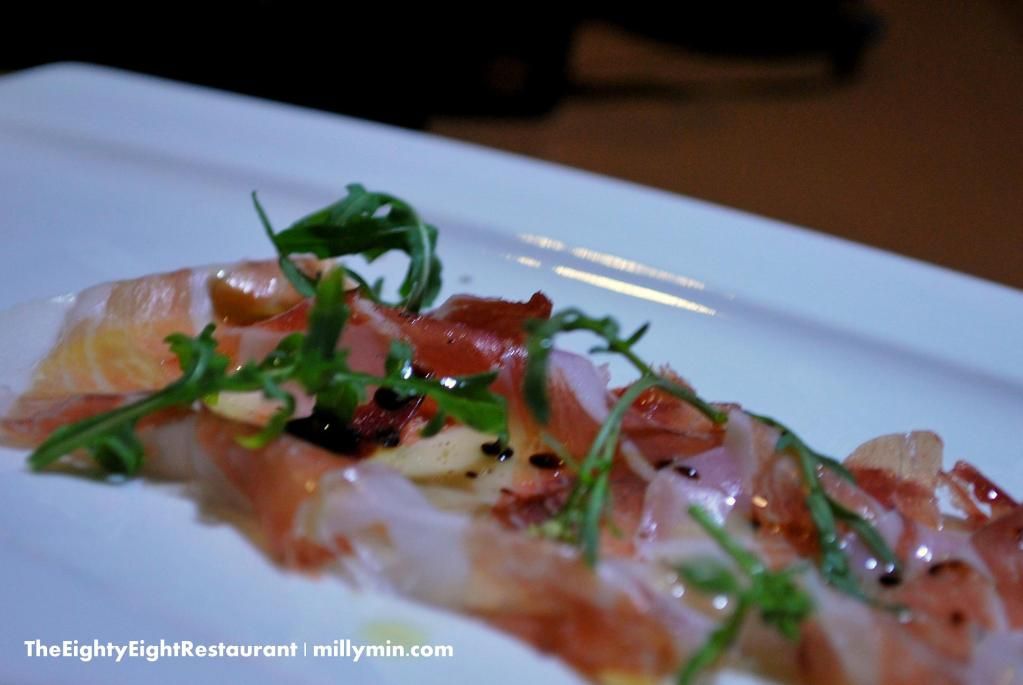 Served this way.
Like I said, the restaurant is cosy accompanied with some jazzy songs on the background and perhaps a glass of wine to accompany you for the great meal.
To be honest, I am not a seafood person. Saute Clams (RM20) would be served as the hot starter. Prawn stock, oven dried tomatoes, basil, fresh tomatoes and parsley and a little bit of brandy were use to cook the clams. And this time, I had quite a number of clams just because it was cook in such that I did not tasted any fishiness in it. The clams were so fresh and the gravy tasted awesome!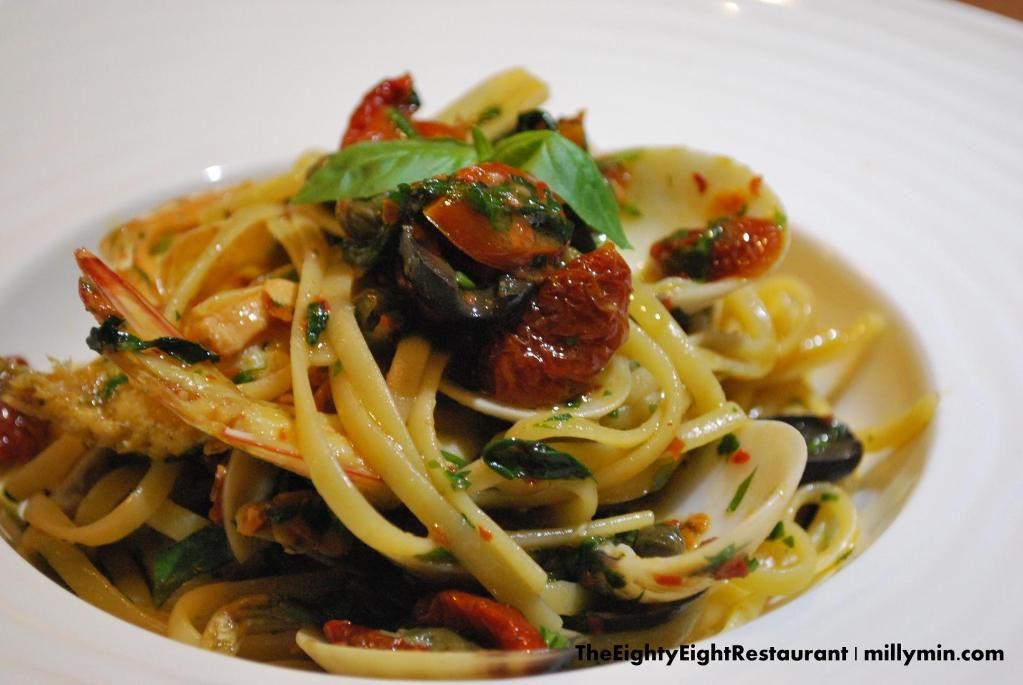 Prawn Bisque (RM26), served with tomatoes in cubes, fresh prawns which were cut into half, some clams and squids with some pepper sprinkled over it. It is smooth and creamy as it extracts every bit of flavor from the seafood.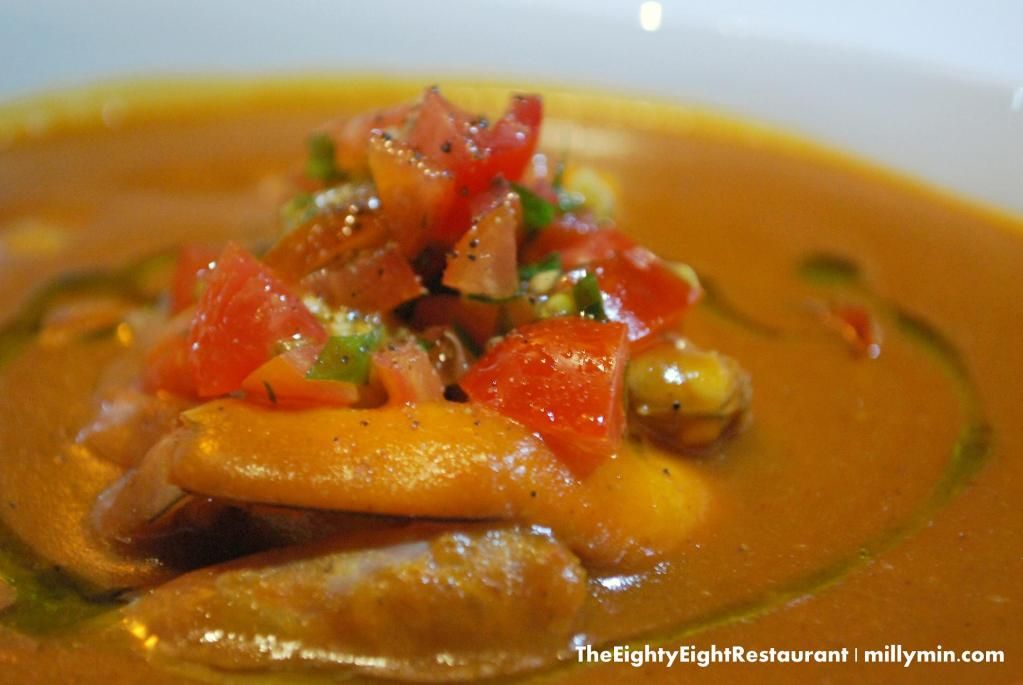 Strawberry Sorbet (RM8) ; which will be served is a larger portion as this is a complimentary from the house, which is use to cleanse the after taste of the dishes we had previously. Light, sweet and easy plus a little sourish. *slurps*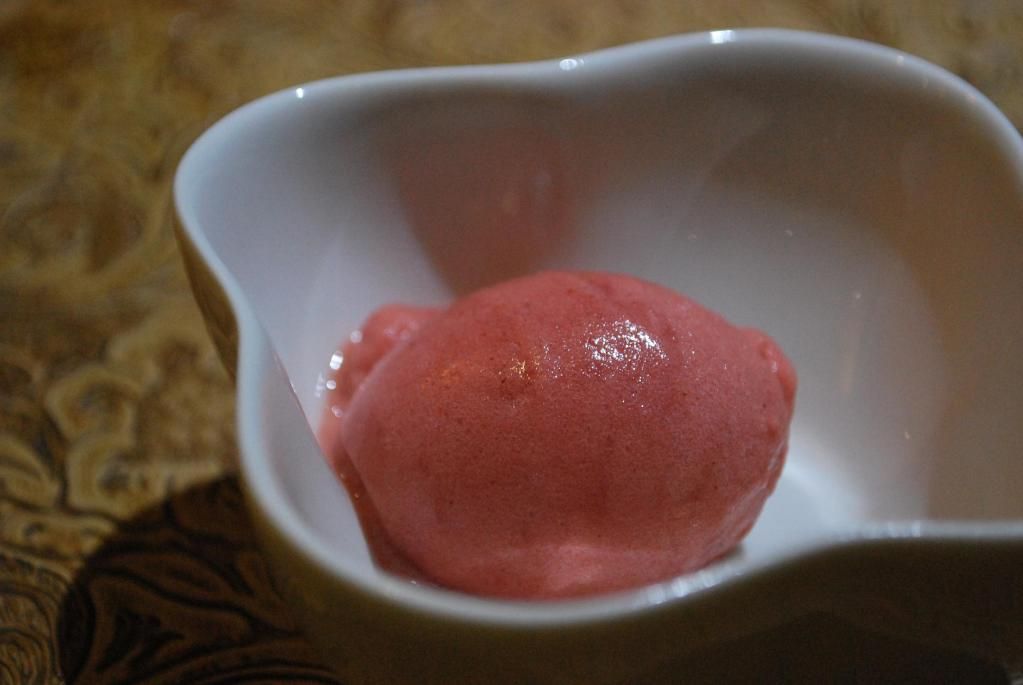 Seafood Linguine (RM45), served with some sundried tomatoes, clams, olives, some mix herbs, cherry tomatoes and capers. 
I always loved rocket salads! Lucky us, we were served with a fish dish of the month. A direct air-flown from France, Whole Baked Sea Bream (RM75) which was marinated with lemon zest, parsley and salt. It was served with some white wine sauce, rocket salad *yummy* mashed potatoes with the oven-roasted fish.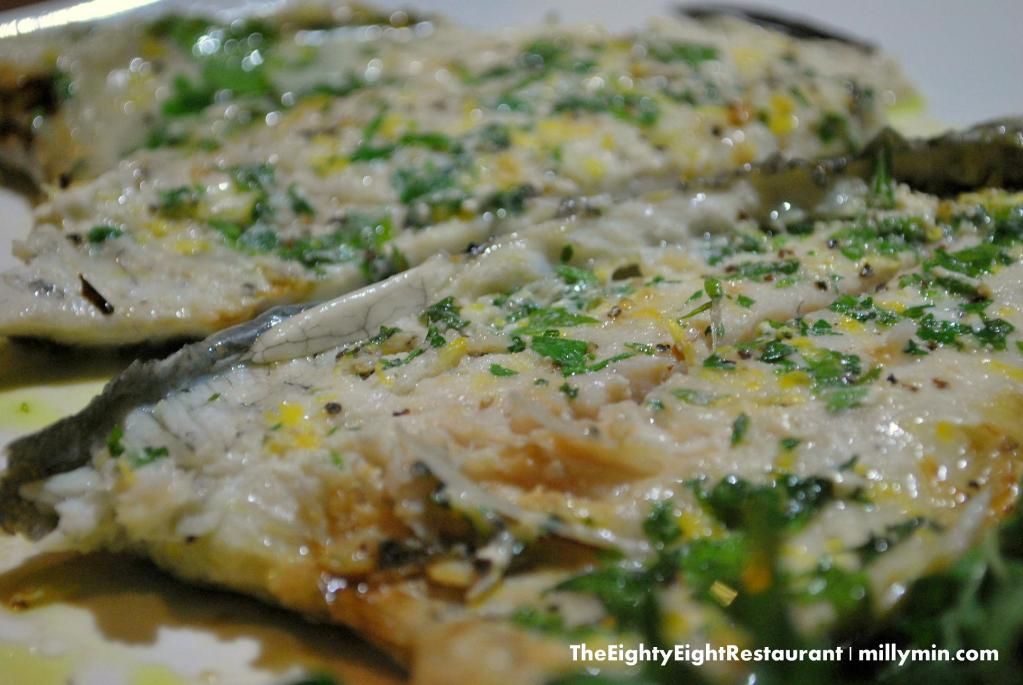 Oven Roasted Baby Lamb Rumps (RM68) imported all the way from down under, Australia. It is coated with charcoal powder and it was so tenderly served! It was served with Japanese pumpkin pureé and some rocket salad.
If you have the urge of easing your dessert crave, just like I do many at times, Eighty Eight Restaurant can be one of the stop. Dessert, myself would be the number one big fan! Chocolate Banana (RM22), is their signature dessert. Homemade banana ice-cream and some frozen Varlhona chocolate mousse alongside with some banana mousse.
Vanilla Panna Cotta (RM20), creamy and decadent with some berries on it. If you may not know, panna cotta basically means boiled cream. Its too good.
Gratin Sabayone (RM18) served with vanilla ice-cream, simmered with Marsala wine. Perfectly done!
All the awesome dishes were done by the chef, Danny Ng (the one in the middle in the below picture) whom was trained at At-Sunrice GlobalChef Academy, Singapore.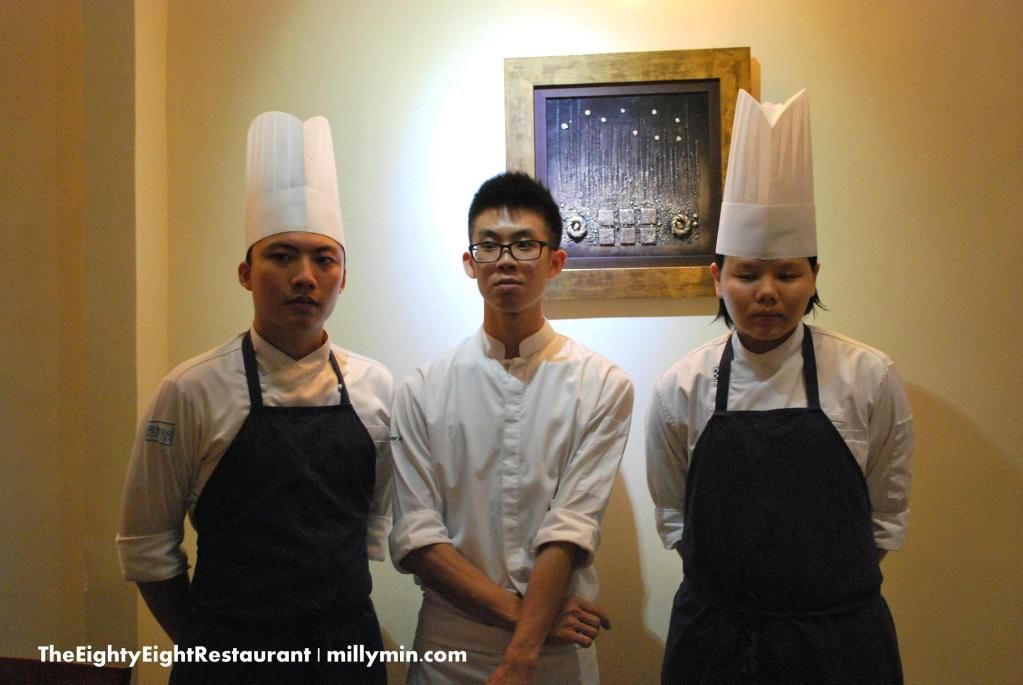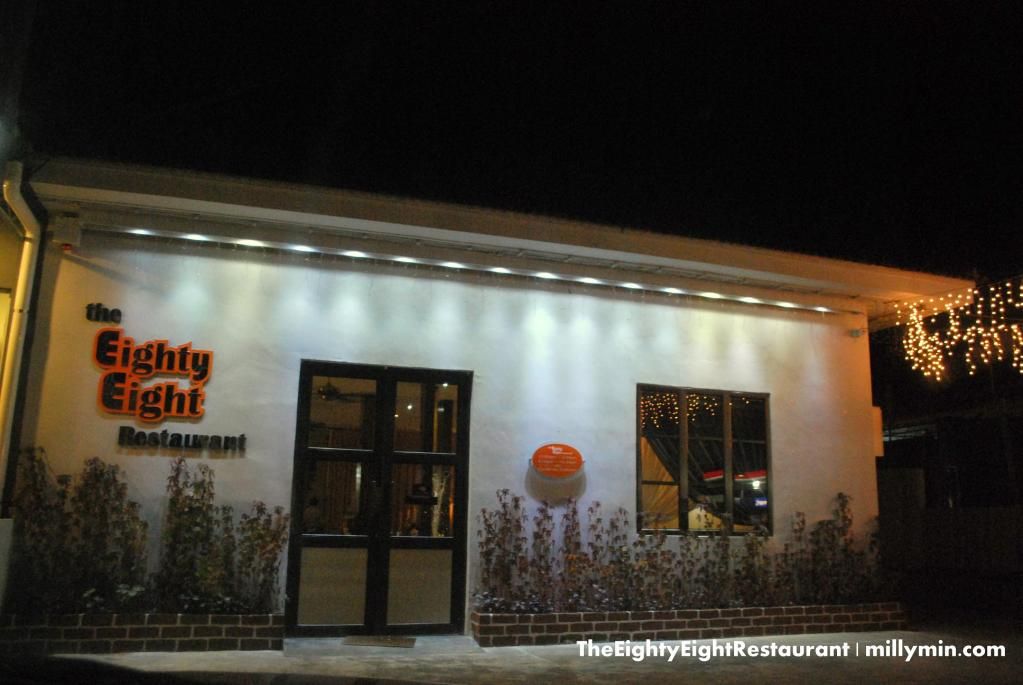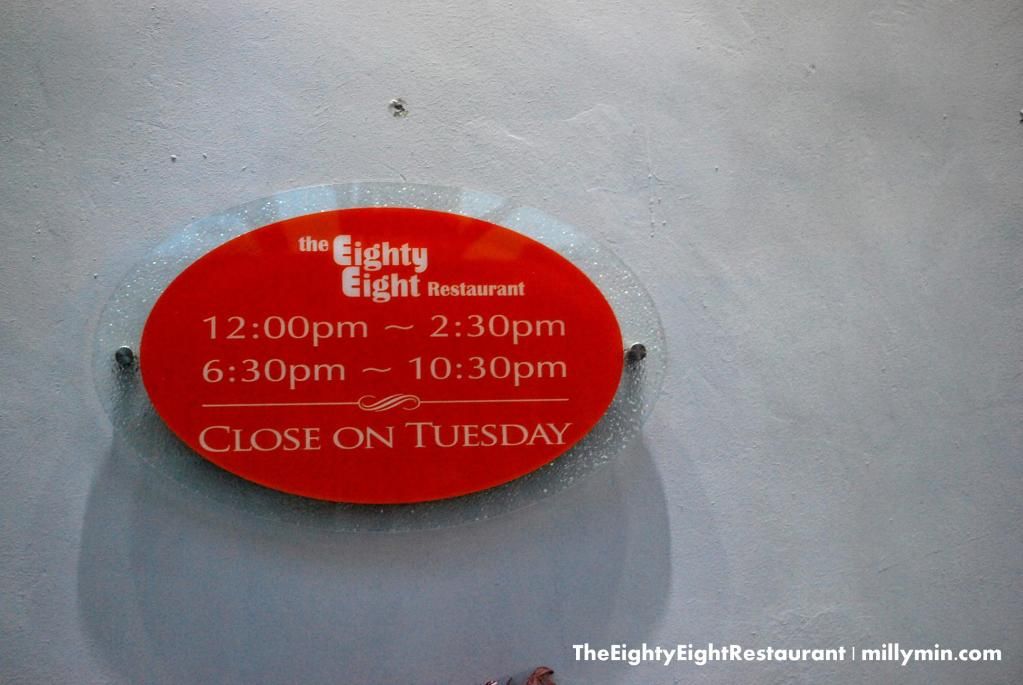 Guess what, the restaurant is name after Danny's birth year. Well, I love such cosy place what more it is serving awesome food which you might wanna consider to bring your other  half for a nice date!
Eighty Eight Restaurant
Address: 49-A Jalan Kelawei, 10250 Penang, Malaysia.
Contact: 604-226 2821
Business Hours: 12.00noon-2.30pm, 6.30pm-10.00pm (Closed Tuesday)