Upon arriving at Chiangrai's bus stop (do bear in mind that there are 2 different bus stops, one is a in town and the other is more secluded) I do not know what to expect. First, obviously I was all alone, iPod was my only best friend. Knowing not how to speak in Thai will be a partial killer. I was surrounded by locals including monks, and obviously, everything around me were strange and different. Hence, I called Nok (the owner of Bamboo Nest) as I have earlier emailed her to pick me up from the bus station during my reservation. I tried a couple of times and she did not pick, I freaked out for a while and the next thing that crossed my mind was, I need a backup plan. What if she or he doesn't turn up?! As I was dialing for the last time before I gave up, she answered. I felt relieved as if I have not gone through one for a hundred years. She said she was one her way and will pick me up soon and told me wait for her at Platform 6. Alright, I finally found out that it was a 'her' after all the exchange of the emails. Well, always get a local number (if possible) in the countries you travel to. It eases a lot of your phone charges as roaming will definitely cost a lot more.
When Nok arrived, I was pretty glad having someone to rely on, basically on getting to know the place. I was really lucky to have met a petite and courage woman in town. After picking me, she drove to a nearby bakery to get some fresh bread then off to a sundry shop to get some ice after that. All that was for dinner and tomorrow's breakfast. I have no expectations on the place I will staying tonight but, well, I shall find out soon.
The sky was getting darker and we drove quite far from town as we get back. The sun began to set and I was getting a lil worried as we were still far from 'home'. When we reached the track going up hill, I was amazed with myself. Really! Like, how on earth did I managed to get myself a place to stay in Chiangrai way so far from town and all the way up hill!! I must be kidding myself! The road was bumpy, it was a non-tarred road, rocky and steep. I didn't believe it myself and I kept on asking myself, where on earth did I bring myself to. For a sec, I freaked out. To be frank, I was scared. It was dark and if I need to run for my life, I wouldn't know which direction to go. Then, I kept quiet the entire journey while looking around when I was entirely surrounded by the nature.
We drove passed a village, lived by the hill tribes before we reached Bamboo Nest. I was seriously a relieved when I got down from the Fortuner. The air was so clean as I was a few days away from the bad haze back home. It feels good and as the darkness creeps in,  I began to freak, a little. I later found out that we were surviving on solar and as soon as I checked on my phone, both were not receiving any signals. Good and bad and I was left with no option.
I was then ushered to my "house" and decided to grab a hot shower after such a long day. For the first time I came across this kinda water heater which is also known as gas heater.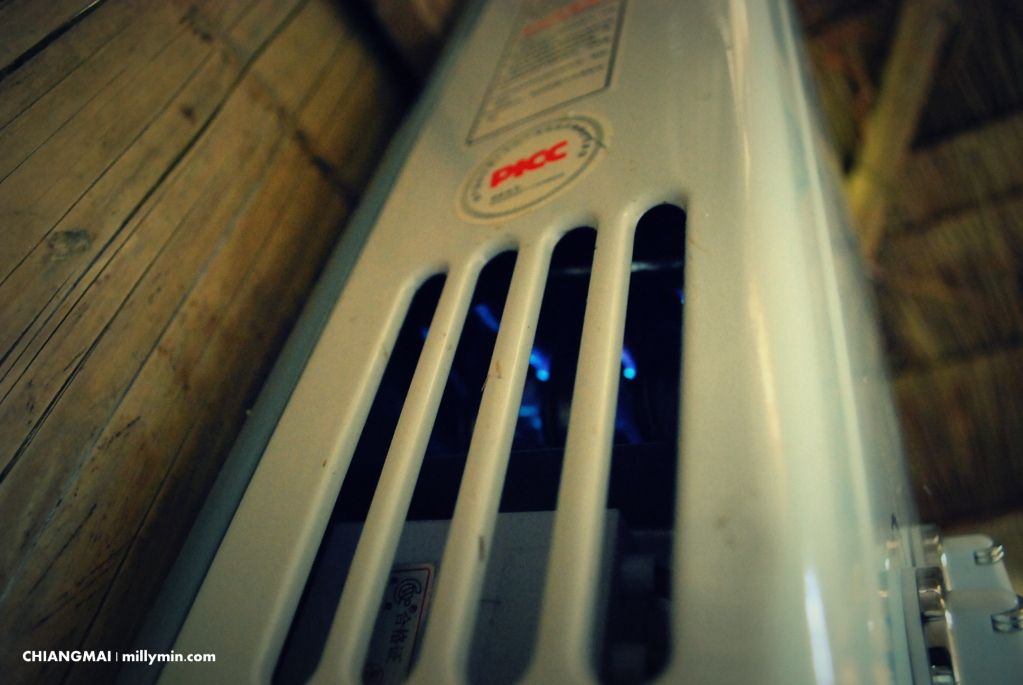 Chillin' at the veranda after that while admiring the view and the only thing I told myself, I would have not done this if I don't have the lion's heart.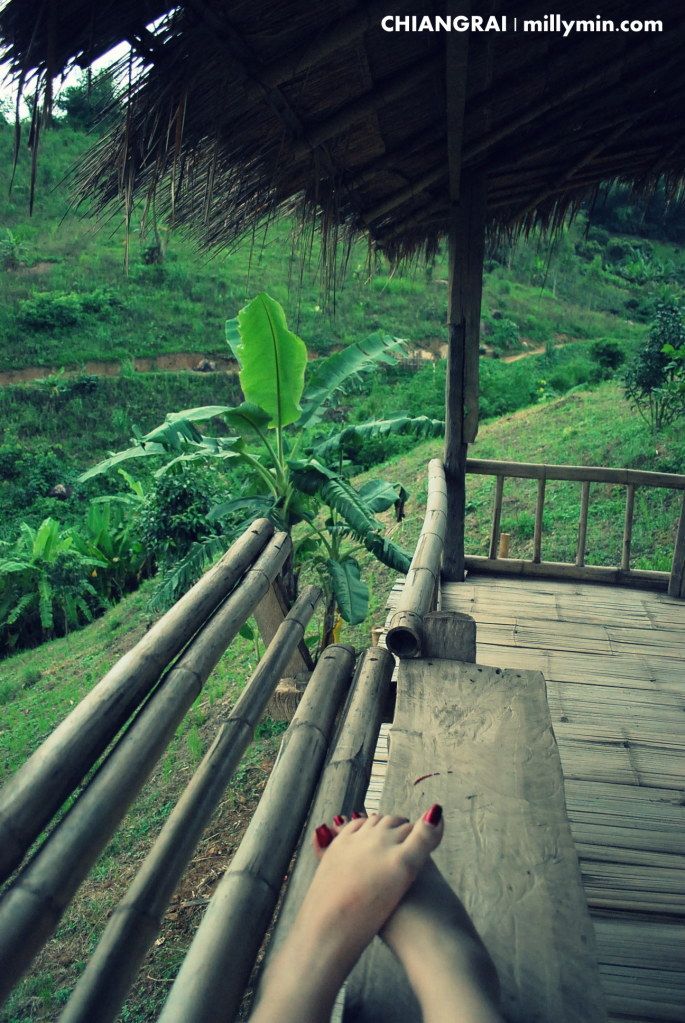 I pre-ordered my dinner and I told Nok that I will get to the the dining area once I grabbed my shower. As I was walking from my house to the dining area, I heard voices of a few ladies, which obviously stole my attention. Guess what?! They came in three and the were much more afraid than I was. Besides the two houses which were taken up by them and myself, there were no more guest. I know, it all sounded like some horror movie. Oh, well. I did speak to them over dinner. One was a Spanish and another two Mexican. Funny it can be, they live with their husbands in the Philippines. Also, they did share with me some travel tips to Myanmar, made me happy enough at least I have a rough idea on how I can go about.
When the fireball was gone, the entire area was dark. I heard the nature. The walkway back to my house was so dark which I can't even see my hands what more my feet. Took a stroll back and turn on the bulbs, where there were only two bulbs in the house. One in the toilet and the other above my bed. As soon as I got them turned on, the bugs would fly in. No one would hear me even I scream for help . Sigh. I slept without changing any positions till the next morn. I was really scared!