This would be a good news for dessert lovers. There's a new dessert shop in town! To all the dessert lovers, here, BlackBall Original Taiwanese Tea & Dessert would be the new place in town to ease your sweet tooth. I managed to try a couple of it which you might just wanna drop by and experience it yourself.
This outlet in Penang is the only one in the northern region. Aside from this, there are four more other outlets located at KSL City Mall (JB), SS15 (PJ), Sri Petaling (KL) and Damansara Uptown (PJ).
BlackBall Signature (RM6.50) – Serves in both hot and cold. It comes with red beans pearl grass jelly, Taro Ball and Taro Q. The yellow and orange are potatoes.
BlackBall Signature (Cold)
BlackBall Combo (RM6.50) – Served with crushed ice with brown syrup topping with the grass jelly on top!
Jiu Fen Taro Ball Crushed Ice (RM6.50) – Crushed ice and I can tell all the crushed ice items are served with a separate amount of brown syrup depending on the degree of sweetness you can take. Well, you can anytime ask for more 🙂
Fresh Milk with Grass Jelly (RM5.90) – This is best recommended to all milk lovers. It is served fresh and cold. You gotta get your hands on this! 
Winter Melon Tea with Sky Pearl (RM5.90) – I personally quite like how this beverage is served. It comes with sky pearl.
QQ Cranberry Lemon Juice (RM5.90) – The beverage which I like most! I somewhat think that cranberries are a women thing. Women love cranberries, and I am one of them! It is served with some pearls and its an awesome blend with lemon!
!
3Q Passion Fruit Green Tea (RM5.90) – The taste of green tea is strong even though it is mixed with passion fruit, some jellies and pearls, which at the same time you can taste the pulps too.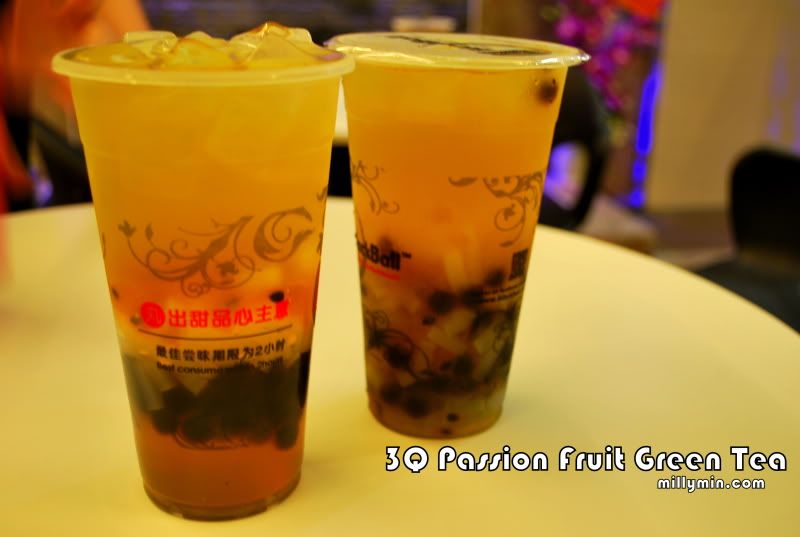 Boba Milk Tea (RM5.90) – Served with pearls and milk! Awesome and it is recommended! 
The launch of BlackBall Original Taiwanese Tea & Dessert!
 Heading to BlackBall? Deets are as per below! 
Name: Blackball Original Taiwanese Tea & Dessert
Address: 232 Jalan Burma, 10350 Penang, Malaysia.
Contact: 016-466 1886
Business Hours: 12.00pm – 12.00am