Tea and fruit based beverages are being the in-thing to be held in hands. Speaking of thirst quencher, well, it might come to mind that these are the first beverages that cross your mind. On such an auspicious day, 11-11-11, Tea Secret has chosen today for their Grand Opening at Queensbay Mall. Its located in between Kenny Rogers Roasters and Yataimura.

There are variety of choices ranging from Milky Premium Tea, Around The World, Nutrilicious Yogurt, Natural Fruit Tea, Latte Series. Milk Cream Tea, Frozen Indulgence, Delicious Chewy Tea, Yakult Tea and Smoothie Delights. When it came to my turn to place my order, I was entirely spoilt with choices knowing not which to go for. All the names seemed yummilicious. Aside from picking your desired drink, you also need to decide the sugar options or I would say the degree of sweetness in your drinks. You can opt for 0%-No Sugar, 30%-Slight Sugar, 50%-Half Sugar, 70%-Less Sugar to 100%-Normal Sugar. As a starter, I would suggest you to go for 50%-Half Sugar, fair play. There are two sizes available; 500cc and 700cc.
Oh, my! Such a sweet night. Aside from the beverages, there were so many tarts, cream puffs and some brownies prepared for the guests. I was indulged and it was love at the first bite when I had the Blueberry Cheese Tart. Well, there were many colourful tarts just that I am a blueberry person 😛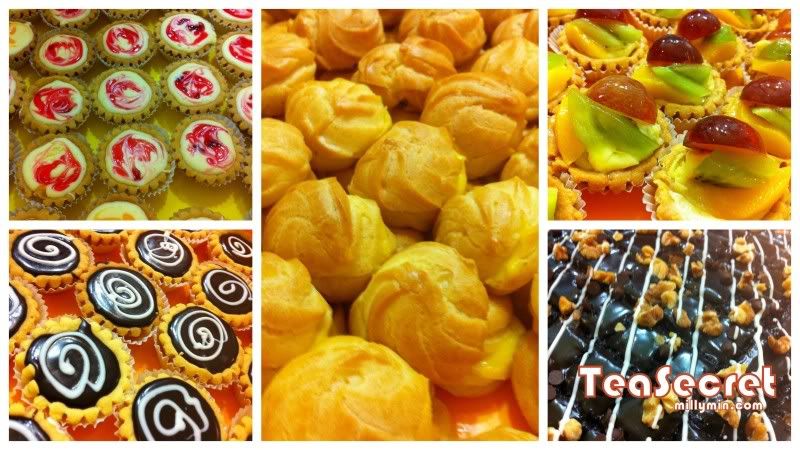 To ease your sweet tooth, you might consider dropping by at Tea Secret.
Having Terry doing the mixing for me 🙂
Having 700cc in hand and its Hawaii Fruit Green Tea, half sugar and normal ice topping up with Konjac.
Konjac turned out to be something new to me. Well, it is something like Nata De Coco, but its a lot more chewy! Speaking of toppings, there are a few available for your pick, which are Pearl, Aloe Vera, Grass Jelly, Pudding, Ai-Yu, Coconut Jelly and of course Konjac.

and of course, I didn't hunt for the place alone but with my feasting family 🙂
Address: LG-K1, Queensbay Mall, Persiaran Bayan Indah, Sungai Nibong, 11900 Bayan Lepas, Malaysia.
Business Hours: 11.00am – 10.00pm