Hmmph.. The iNoob has taken one step forward. I went hunting bajoo and screen protector for it. I spent a thorough weekend over at Gurney Plaza, having in mind to get a screen protector for the phone and guess what? I went to each and every cell phone shop being told that the screen protector for iPhone4 is OUT OF STOCK. I totally forgotten that there is Switch in Gurney Plaza. FML! Even so, the queue was at least a 25 minutes wait which I consider myself to be lucky.
I started personalizing the phone, which I have set two different pictures, one for the the Lock Screen and the other one for the Home Screen. You can actually opt for a picture to be set for both Lock Screen and Home Screen! (Providing this details for iNoobs like me.)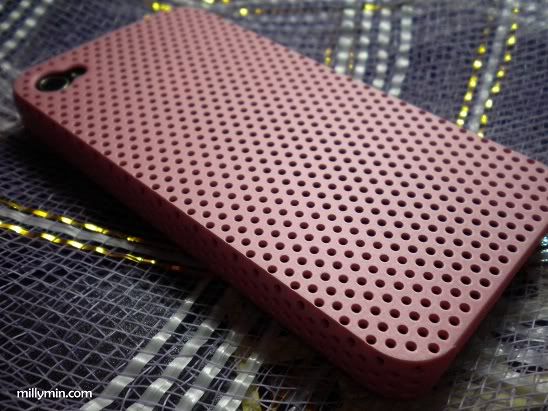 Yes, its PINK! Not easy to get a pink one okayyy!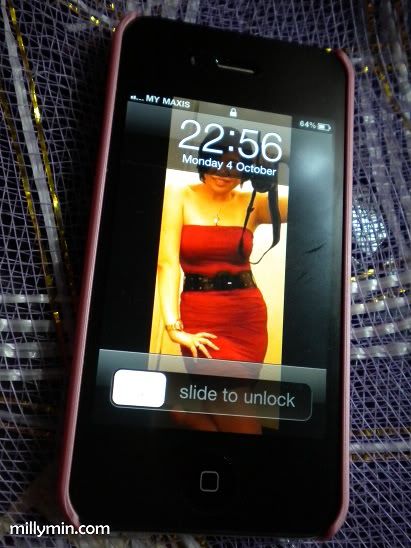 Canggih aye!! Having the retina display seriously amaze me.
Now with the pink bumper on, I now have a better grip on the phone just in case if it slip off my hands. Trust me, if you want your new toy to stay sexy, get it something sexy to look sexier. With all the apps I need being sync into this phone, my daily norms are just on my finger tips. Check out my TOP10 Apps I have in my gadget.
#1 Facebook (for iPhone)
The app that invade our daily life. Something that many can't live without… and that is one avenue my mum tracks me 🙁
Foursquare! I'll whack you if you don't know!
#3 Skype
This app is for me to connect to non iPhone4 users 🙂 Otherwise, FaceTime is sufficient.
#4 Twitter  (@millyminC)
I'm sure you can't live without this app too 🙂
#5 Angry Bird
Its an addiction! I am addicted! I can't get my fingers off these birds even in the midst of meeting!
#6 Adobe Photoshop Express
Picture editing.
#7 WordPress
Need I say more?
#8 Shazam
Like that song and know not what's the title or who sang it? Shazam is the right application for you. It will match the song with the Artist and Title of the song 🙂
#9 Talking Tom
I find Tom quite cute. It repeats after you. I have used it to record videos and the maximum duration would be 30secs. Once done, it can be shared on YouTube & Facebook 🙂
#10 flickr
These handy apps for iPhone make it really convenient for me to blog from this gadget! Super cool! I can edit pictures taken and edit it with PhotoShop Express and publish my entries through WordPress! These would be the few must have apps. What are yours?